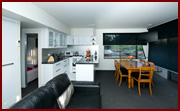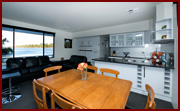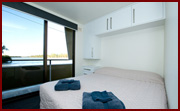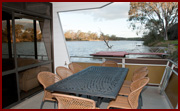 Why stay on our houseboat?
It is based on the Murray River in Loxton in the Riverland South Australia
Easy drive from Adelaide and Victoria
Car locked and secured on our property
24/7 assistance should you require
Affordable Rates (for rates click here)
Testimonials
Our group of 3 kiwi couples spent a fantastic week on "Kiwi-Oz". The houseboat was very roomy with all the comforts of home.
Gliding down the river was so relaxing and mooring each evening gave us a great chance to explore the riverbank and towns.
We saw a lot of birdlife and even a few kangaroos in the bush. A very enjoyable holiday which we would thoroughly recommend.
Thanks to Mary and Peter for all of their hospitality. All the best to you both and we hope to catch up again sometime.
Shirley & Bryan.
We recently had the pleasure of hiring a houseboat, 'The KiwiOz' from Riverland Houseboats at Pyap via Loxton, South Australia.
It was a trip we organised in place of an overseas cruise that my parents who are in their 80ís had planned to go on earlier in the year but due to ill health had to cancel.
I did a bit of searching on the net and from first contact via emails and phone conversations with the Barry family who own and operate the boat we eventually hired, I felt a genuine friendliness with the treatment and service that we were given. The six of us set off on KiwiOz, an 8 berth houseboat that has been lovingly set up with all the facilities and comforts that we could want for.
We have all recommended to family and friends that if they are considering a memorable trip that they could not get better than time spent on KiwiOz.
Our thanks to Mary, Peter and Mathew for a wonderful week.
Malcolm and Dianne Burgan
We would very much like to thank you for a great time and for your hospitality.
We thoroughly enjoyed our time on KIWI - OZ and the quiet cruise along part of the Murray and hope to do so again in the very near future. We would recommend this relaxing style of holiday to anyone.
Loved it and will definitely be back.
Richard, Selma , Geoff and Cathy
Welcome to Riverland Houseboats Loxton...
Where you will escape from the hustle and bustle of your busy lives. Peace and tranquility, fun and leisure are words
that come to mind.
Riverland Houseboats Loxton can provide a holiday for all
the family to enjoy, the options are endless on your River Murray "Kiwi-Oz" houseboat holiday.
It can be as quiet and peaceful as you wish or, if you prefer fast and furious, we can provide a boat and instructor and you can learn to ski.
You can stop off at most of the towns along the river, where shopping and a freshly-brewed coffee are just a short, easy walk from the river. Walk the walking trails; visit a wetland; meet the friendly locals; maybe even taste some wines, chocolates or other local delights.
The Loxton Historical Village and the historic Overland Corner Hotel are also accessible from the river and are definitely worth a visit.

If that all sounds a bit hectic, you could just relax on the top deck, play your favourite music and watch the pelicans gliding in the thermals; or you could stop at one of the many white sandbars along the broad, tranquil stretches of the river - wonderful areas for the kids to play and for fishers to throw a line.
As you motor along, you will hear kookaburras laughing and the whistling of kites as they soar high over the magnificent river red-gums. You may even see kangaroos nibbling at the grasses growing beside the river. As night approaches, prepare the food for the barbeque, fill the wine glasses and watch as the setting sun turn the cliffs a vibrant orange colour.
After dark, turn the music down, refill the wine glasses and wonder as the magical night skies – far away from city lights – tell their own story
---
More Testimonials
Had a wonderful 3 day holiday on Kiwi-Oz with 3 generations of our family. Beautiful quiet stretch of the river and a very nicely presented houseboat. Unfortunately fishing was not great but abundance of yabbies provided plenty of activity for kids and grandparents.
The Houseboat was very easy to handle even in the fast flowing conditions and the canoes that were arranged for us provided additional fun.
All in all a great value trip with the only problem being it was not for a longer period of time.
Regards and thanks again,
Kim Fielke