Contact Us
Your stay is important to us.
You're welcome to contact us with your requests - or if you require any further information.
It is our intention to reply within 48 hours of receipt.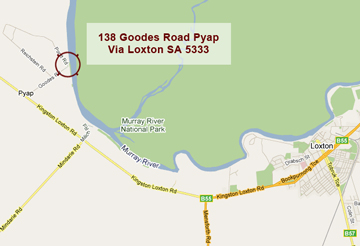 Where Are We?
Loxton is situated approximately 250 kilometres north-east of Adelaide in the beautiful Riverland region of South Australia.
The Riverland includes five major towns - Waikerie, Barmera, Loxton, Berri and Renmark - each with its own distinct charm and personality and each with its own highly-regarded golf course.
The Murray River winds its way through each of these towns with the exception of Barmera, which is nestled around the beautiful Lake Bonney.
Wildlife is plentiful along the river and fishers rarely leave empty-handed. The options for wining and dining are as diverse as the stunning scenery. Hotels, clubs, sporting clubs, restaurants and taverns cater for all tastes and budgets.
The Riverland is also home to many boutique wineries and the famous Banrock Station Wine and Wetland Centre. At Banrock you can enjoy a light meal, a glass of their delightful wine, and a stroll along the boardwalk. This informative walk will take you through one of the best-managed and most stunning wetlands in the country.